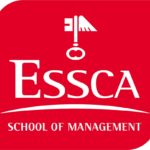 Founded in 1909, pioneer of the post baccalaureate model, ESSCA School of Management creates knowledge and develops responsible managers and entrepreneurs, while fully considering the human, ethical and economic dimensions of organizations in a multicultural environment driven by technology and social innovations.
Labeled EESPIG (public interest legal status), it is part of the 1% of Business Schools in the world having the triple accreditations AACSB, AMBA et EQUIS.
With 8 campuses, including 2 abroad (Budapest and Shanghai), it offers since 2016 on its Lyon site:
– the Grande Ecole Program: 5 year degree granted by the state as Master's degree
– the Bachelor in International Management: 3 years degree providing the state Licence certification.